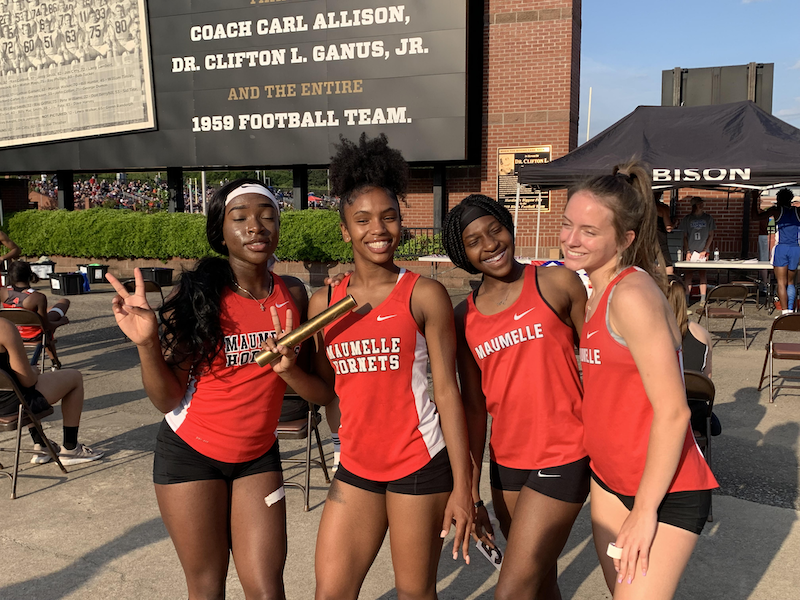 Lady Hornets Wrap Successful Track Season
PCSSD
Thursday, May 20, 2021
MAUMELLE, Ark. -- The Lady Hornets track team wrapped up the 2021 season recently by participating in the Meet of Champs. Lady Hornets, Brenae Allen, Sydni Barnum, Haylie England, and Khaelyn Nelson participated.
This meet invites all winners of events in all classifications (1A-6A), and then the next 10 best performances. The Lady Hornets competed in the 4x100 Meter relay and took silver with a time of 49.04 seconds, which placed them 2nd in the state. This also set a new school record for this event.
The Lady Hornets also competed in the 4x400 Meter Relay and took silver with a time of 4:07.89 which places them 5th in the entire state. This time puts them at 3rd for all time best in the school records and was 11 seconds faster than their state run.
Our very own Brenae Allen competed in the 100 Meter dash and placed 5th with a time of 12.50 which placed her tied for 7th place in the state. She holds the 2nd fastest time in school history.
Please take a moment this week to congratulate these young ladies. They deserve all the accolades we can give them. Congratulations also to Coaches Henry and Robinson.